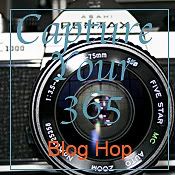 It's time for the first Capture your 365 blog hop! For those of you living in the dark ages, capture your 365 is an awesome community created by Katrina Kennedy for all us 365ers. Giving us a place to hang out! So the way this blog hop works is that now that you've visited me, you should head on on over and visit
Sharon
. (a complete lists of all the blogs is listed at the bottom in case you are starting with me. I encourage you to check out everyone).
Now for the pictures, it's what you came here for, right? Not sure if anyone's noticed but it has been about a week or so since I posted a picture. I have taken one everyday, but have honestly been too sick to upload or comment on anyone else's. As a matter of fact after agreeing to do the blog hop thing, I was quite worried about being able to do it, but here I am...barely. : )
Here's all the pictures that I missed uploading while I was out sick...
The prompt for capture your 365 was Friday. And this is what I typically do on a Friday. Lunch at the park.
This is the first day that the headache was so bad I stayed in bed. I went outside and took this random picture of my boots.
Day two of being in bed. You'll notice I am actually using my big girl camera. Those are my soon to be sunflowers.
This day's prompt was the letter M. These are seriously yummy. (Instagram photo)
This was the last day that I went to work for a while. The prompt was 2 and these are two little bolts together.
. I love orange and wish that I could have taken tons more pictures and gotten a perfect one, but I'll be honest, I was just too tired.
I can't remember what the prompt this days was, but for some reason I though my tree fit the bill.
And the last picture, from yesterday.
So here's hoping that you guys visit everyone else on the blog hop and leave lots of love! Everyone loves comments!!
Capture Your 365 Blog Hop List